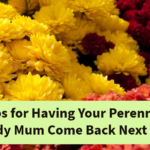 Tips for Having Your Perennial Hardy Mum Come Back Next Year
September 18, 2023
Chrysanthemums, also commonly referred to as mums, are undoubtedly one of the most cherished autumn flowers. Their red, gold, and bronze colors perfectly complement the crisp air and changing leaves of autumn! Coupled with their watering needs being easiest in cooler weather, mums are the perfect symbol of the changing seasons to incorporate into your living space. Here are a few more reasons why they are an autumn staple for your home and garden!
Mums Come In Rich, Beautiful Colors
"Mums are the largest commercially produced flower due to its ease of cultivation, capability to bloom on schedule, and diversity of bloom forms and colors," according to the National Chrysanthemum Society of the USA. The variety of hues that mums can bloom into makes them a favorite among not only gardeners but homeowners in general as they look to welcome autumn with fitting floral decorations.
Shades of deep burgundy, fiery orange, golden yellow, and rich maroon evoke the warmth and vibrancy of autumn. Their color diversity allows them to complement various garden styles and effortlessly blend with the changing foliage, creating captivating visual displays indoors and outdoors.
Mums Are Both Annuals and Perennials
You may already know that perennial flowers come back for several growing seasons. Annual flowers, on the other hand, only last for a single season. You may be surprised to know that your options can be either or! Garden chrysanthemums are perennials, while annual mums are typically sold as potted gift plants. Depending on your gardening tendencies and decor needs, you can find mums that are right for you. Regardless, these flowers fare much better outdoors in the cooler temperatures of the fall season.
They Offer Creative Decoration Ideas
The diverse hues of mums available to you make them a great choice for floral decorations in the house. Rich shades of orange complement the jack-o-lanterns of the Halloween season, while bronze mums pair well with the warm and bountiful decorations of the Thanksgiving season. Feel free to experiment with your placement of this lovely floral selection and how you can incorporate them into your fall decor arrangements.
If you are looking for more ideas for your home's decor, then come see Schwartz Greenhouse today! Our staff is ready to help you decorate your home with beautiful plants, perennial flowers, annuals, and other beautiful flowers that make autumn all the more enjoyable.