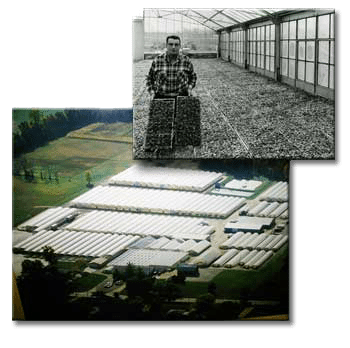 When Henry Schwartz (right) opened Schwartz's Greenhouse in 1939, he had only one greenhouse where he grew vegetables and bedding plants. Today, with the fourth generation coming into the business, more than 60 years later, there are approximately twelve acres of greenhouses within our garden center!
When Henry and Mary Schwartz started the greenhouse business, they had no idea how it would grow. With their two children, Lorraine and Ralph, they would grow vegetables and bedding plants. Starting as early as mid-April, they would arise early in the morning, load the trucks and head down to the market (at that time it was referred to as Western Market). Soon Henry had valued customers and started shipping directly to their stores.
Shortly after Ralph married his high school sweetheart, Donna, Henry recognized the growing need of his family, and another opportunity presented itself. Friends and neighbors began requesting vegetables and bedding plants, so Henry added additional greenhouses and a small retail space to meet their needs.
As the retail blossomed, so did Ralph and Donna's family with the addition of Dave, Lori and Ron. Schwartz's Greenhouse remains a family-run business. Oftentimes the children would follow their grandfather, absorbing his vast knowledge of plants. As the children grew, they became increasingly active in the daily operations of the family business.
Currently owned and operated by Donna and her two sons, the retail has grown to over two acres of shopping space. Still located at the original location, we have grown from vegetables and bedding plants to a full selection of annuals, perennials, and gardening supplies.
When you're looking for a garden center near me in Romulus, Schwartz's Greenhouse is the place to check out. The store is located at 30705 Sibley Road in Romulus, Michigan, and is run by family and knowledgeable staff. We maintain, no matter what area your outside decorative taste is, we have a plant for you!