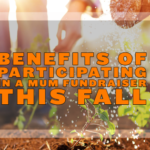 Benefits of Participating in a Mum Fundraiser This Fall
August 11, 2023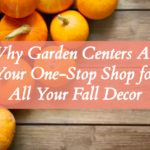 Why Garden Centers Are Your One-Stop Shop for All Your Fall Decor!!!
September 11, 2023
When you see people who do a lot of gardening, they seem to be enjoying life. According to a recent study, 42% of gardeners said that it made them feel happy and healthy. You might be skeptical, though. Here are some benefits to consider:
Your Body Will Benefit From Exercise
While digging and inserting landscape plants into your front lawn isn't going to be the equivalent of running for an hour on a treadmill, it's still considered light aerobic exercise. When you do this, you can improve your heart and lung health, reduce the chance of obesity, lower your blood pressure, and reduce the risks of diabetes, some cancers, and even osteoporosis.
You Will Get Vitamin D Exposure
One of the benefits of being out in the sunshine is that you're going to be getting Vitamin D from the sun's rays. You don't want to overdo it though, and if you're a senior citizen, you need to be extra careful. Wear sunscreen and sunglasses to go with a wide-brimmed hat to protect you from sunburn while you plant your landscape plants.
You Will Eat Healthier
If you plant things like fruits and vegetables, you can even get some healthy food options. You can grow anything from salad greens to cucumbers to tomatoes, strawberries, apples, or herbs. These healthy options help to create healthy meals for your family. You can also save a lot of money growing them on your own rather than buying from a supermarket.
You Can Help Yourself Mentally
There are cognitive benefits to gardening, too. People who garden can even reduce their risks of dementia or Alzheimer's. It will stimulate your mind in the process because you're focusing on what's happening in front of you. It will even help you emotionally since you can release serotonin and dopamine while you garden, making you feel happy and content. It creates a sense of purpose that can boost your self-esteem.
As you can see, there are a lot of good things about gardening. If you live in an area where a lot of people partake, it can create a sense of community, too. That will keep you from feeling lonely, which is important when you're older. All in all, gardening can vastly improve your life.
Are you looking to begin your gardening journey? We would love to assist you in getting started. Feel free to reach out with any questions about our products.